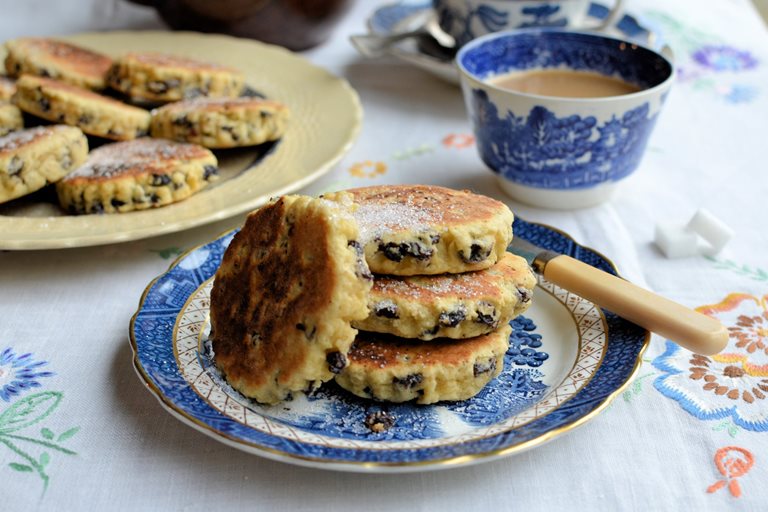 This weekend Gran and I spent time in the kitchen. The white petals of the ornamental pears beyond the windows had been mostly blown down in snowy drifts by the end of February. But now the garden is full of bursting yellow daffodils and bearded irises. The perfect backdrop making Welsh favorites, like cawl, or leek soup, or Welsh cakes, or bara brith. I shipped out batches of Welsh cakes overnight UPS on Monday, St David's Day, to my parents and SO. And the SO, had arranged for Les Amis du Fromage to send me and my folks some Welsh cheeses, so St David's was followed by a good St Non's (David's mum) and St Chad's (David's best bud, disciple).
I suppose it might seem a kind of cheating on Lent, to break it up with a 3-day fete of Welsh holidays. But, we're Welsh. It's what we do. So, I don't have a problem with it. For the record, we also celebrate St Patrick's too, 2 weeks after, because St Patrick was Welsh, even though his mission field was Ireland and people forget he wasn't an Irish person. Really, given how much the pandemic has taken away, I think a few celebratory holidays were warranted. Of course if you're not of Welsh extraction, you'll have to find your own excuses.
Even in our celebrations, we didn't actually break Lent. In fact, the hardest part this year was finding things to give up. Sex and meat were already off the table. So I gave up booze and all forms of chocolate. An exception made for the small amount cocoa in the Red Velvet Cake Gran made for me for a belated Valentine's Day. I'm still debating cracking open the nigori my neighbor gifted us, for paying for the tree trimming. I mean, it'd be rude, even un-Christian, not to try it and let them know how it was, right? So yeah, good faith efforts hopefully leads to a faith that's good.
Gran got her second Moderna vaccine shot on Tuesday afternoon. To reach the pharmacy less than 1 mile away at 4 pm, we had to start at 2:30 pm. Yep. That's what it's like dealing with someone in their 90s. Things move, but slowly. And then there was getting home and settled again. All totaled, 3 hours. But we had nice weather on the day. It was 14 degrees colder and rained the day after so, we were blessed to have a fine warmish day.
After 24 hrs Gran's injections site was red and swollen. She said it felt like someone punched her in the arm. By 36 hrs, the red and swelling was 6″ in diameter around the site. But she has had no fever, muscle pain, tiredness, or any other listed side effects. So, I think things have gone rather well. Fingers crossed. I do confess to sense of relief. I know Gran is very lucky. Only 8% of the US is currently fully vaccinated. The SO hopes I can get fully vaccinated in the US in May before I return home. If I got back unvaxed, I'd have to wait till August or Sept.
He's basing that hope on the current US vaccine manufacturing deadlines. But my guess is, I'll miss that window. BC has a rational, not overpromised vax plan. And I'm fine with it. It's really ok if it ends up being September in the US. So many groups of people are more at risk and need that vaccine so much more than I do. People of color, people with disabilities, prisoners, homeless, military, meat packing plant workers, farmworkers, undocumented immigrants in cramped housing conditions. I don't mind being last in line.
In other news, I did finish up reading Jim Manney's book. It was good. I'm using the examen this month. It's in my planner. I'm not sure Jim knew it when he wrote the work but … St Ignatiaus? Very Buddhist-y. I was surprised. Maybe only a Buddhist would notice though. I really only had a couple quibbles (which I sent straight to marginalia). The was a major sticking point though. It had to do with an ancient pagan Greco-Roman point of view about man's (and I do mean man's, not humanity's) place in the world order.
Man is created to praise, reverence, and serve God our Lord, and by this means save his soul. The other things on the face of the earth are created for man to help him in attaining the end for which he is created. Hence, man is to make use of them in as far as they help him in the attainment of his end, and he must rid himself of them in as far as they prove a hindrance to him.

The First Principle and Foundation.
This was a common view in St Ignatius's day, so of course it would turn up in his writings. But, it's an idea that science and scripture has long actually rejected. You don't save your own soul by your own means, there's Jesus for that. The earth was created and man was created of earth to tend it. Treating everything as only good if it useful to a man's goal and otherwise garbage to be ride of is how we got to the sorry state of modern Christianity and on the verge of ecological, planetary collapse. So yeah, there's that.
I'm not sure why the author failed to notice the saint was wrong. Perhaps because he's so used to the idea of accepting what a saint said is infallibly correct, he can't realise it's false? People can be followers of Jesus, and still be dead wrong. It happens — a lot.
Anyway, that blind spot of the author got me thinking about shadows of the past, and shadows in general. I find shadows interesting. For an artist, without shadow, there's nothing. It's just a white page with lines. It's shadowing the brings out form, that fills out the picture, that brings it to life. And that's something that's true of real people as well. To be fully ourselves, we need to understand and accept our shadow half. Shadow selves are something we all have. I use the term here to mean that which is usually unconscious. It's there, but we don't acknowledge it. We don't want to see it and have to own it and deal with it. Whatever "it" is. But choosing blindness can often lead to tragic outcomes.
In the portrait of Yates above, we see a study in blindness. It's the only image of him without his glasses, without which, he was blind. Why did he let Sargent draw him this way? In 1889, he met a girl and fell in love. She refused repeated marriage proposals, and ultimate married another in 1903. But they never really fell out of love. Maud's marriage was disaster. Ultimately she ended up in Paris, in 1905 asking for a divorce. There, in 1908, she and Yates re-connected and finally consummated their 10-year relationship. But after that night, things fell apart. For Maud it was one and done.
And so Sargent gives us a portrait of Yates as he was, as he could see Yates was, blinded. Yates ignored the fact Maud married another. Ignored her conversion to Catholicism. He lived in a fantasy where Maud, heiress, actress, suffragette, Irish revolutionary was his muse. But she was really, I think, a reflection of his shadow self. She was in life, the person he wanted to be but couldn't allow himself to be. Without her, he was in darkness, blind. He preferred not to look at his own shadow and change. Sargent was a master of pulling shadows of truth out of people, and putting them on canvas. So of course, in general he was disliked for it.
For anyone watching WandaVision (a show I confess I have not seen, I just read about the episodes on Wikipedia), you see a portrait of someone resisting their shadow. Wanda went through a trauma, the death of her lover, Vision. The pain was too much to deal with, so she shut off to that painful reality. To do that, she had to shut off her shadow self, The Scarlet Witch. But the SW is what makes Wanda fully, truly her 3-D self and not some 2-dimensional sitcom version of herself. The SW is the shadow she won't acknowledge.
The shadow self is powerful, too powerful to ever be shut down completely. The shadow can be a creative force for good, when recognized and worked with. But it can be a destructive force when rejected and suppressed. But how do you find your shadow so that you can work with it? Good question. The shadow self turns up, makes itself heard, in all sorts of interesting ways. I'll try to give you some examples.
I happened to catch a few minutes of a Sunday morning politics show this weekend. The host, a woman, was interviewing a male GOP US House member or Senator. And when she'd ask a question, he'd reply, "We have to win. We have to win first. Then we can enact our agenda." Political parties run on their agenda. They win on the strength of their agenda. But in his mind, these had become two separate things. The winning was completely apart, divorced from, the normal rational agenda. The obsession with winning made clear the shadow self knew the agenda was nonexistent or so repugnant it could not be said.
A few days later I happened upon a snippet of a dot dot dot media interview with the Q shaman, who is now in prison. When asked if he regretted his allegiance to the former president, he replied he didn't regret his allegiance at all. He then went on to say he was picked on as a child at home and in school, and he saw the media as picking on the former president. In other words, the shaman was projecting his own issues onto — the most powerful man in the world. Instead of recognizing his shadow — an adult with agency, a white male with inherent societal privilege — he chose staying in victim mode via the former president.
Many Christians make rejecting the shadow self a full time job, even though "in the love of Christ and his forgiveness" is exactly the kind of place you want to be when exploring the shadows. You don't see Christians picketing divorce lawyers or billionaires, even though Jesus talked a lot about divorce and greed. They're focusing on things never mentioned by Christ and not at all or barely mentioned in the Bible (abortion, gender identity, bathrooms, stem cells in covid vaccines). Rather than face their own shadows in their own lives, and those in their faith, the Church has them externalize those shadows, into fears and hatreds foisted onto innocent others.
Colin Kapernick taking a knee was a man showing a light. But whenever you show a light, you see the shadows. I didn't care about his taking a knee. I didn't have a problem saying yeah, racism is real in America. But other people sure did. And that is often what happens when people see their shadows. Even if you're not a racist, maybe you come from an area that traditionally practices racism as part of the culture. You carry with you an unresolved shadow of guilt, shame, anger. But instead of dealing with that, acknowledging you are not racist, but racism is a societal problem. You get defensive. You suddenly make it about America, you start "defending America."
This is where I think the 1619 Project hit a nerve. People who can't stand to hear the bad as well as the good things about America have probably overly invested in "American" as an identity. And they do this to shut down the shadow self, all the rest of who they are. But when the shadows are made plane about America, these folks tend to freak out. It's not about 1619, slavery, racism or even America. It's about their sudden confrontation with the reality shadow causing an identity crisis. Healthy people can say honestly I'm American. I love America. I have no problem with people pointing up difficult things about America.
I suspect this kind of "shock of the shadow" identity crisis happens a lot with military and law enforcement. There's an ideal image of self, as hero, savior. People go into theses professions for noble reasons. But then reality sets in. Lines get crossed. The noble reasons start to paper over or hide shadows we don't want to see, our love of control or violence. We feel shame. We bury it. And when the shadows are buried? Instead of being dealt with and incorporated to allow us to be more fully human, they become rejected and angry. And then things get way worse.
Jan 6th was an example of whole lot of people, Christians, law enforcement, the military, Q anons, all running from their shadows. Like Wanda, when you have people who can't face themselves, they certainly can't face reality. Therefore, they inhabit a partitioned self. And that's always a fragile state because at any time, the wall might come down. People would rather believe the election was stolen, so they can be saving democracy. They'd rather believe in a satanic pedophile ring, so they can be saving children. They want to see themselves as heroes, to be seen as such. But the only way to be a hero is to first be fully ourselves and face reality as it is.
If you want to know more about your own shadow self, consider your dreams. Dreams often come from the unconscious mind. Dreams can be the silent part, talking aloud. Another way you might see your shadow is meditation. Stuff comes up in mediation. People find themselves suddenly laughing or crying and don't know why. The Shadow knows. A fun way of catching a glimpse of your shadow is just by watching TV. Pick an episode you really enjoyed this week, and watch it a second time a few days later. What really spoke to you the first time you watched it, that when you re-watched seemed quite different to what heard and saw the first time? That first impression, might have been your shadow trying to point itself out.
I'm going to wrap up here with a couple thoughts about change and acceptance. Things change, about our world, ourselves, everything. We can accept that, and we can become fully ourselves, shadows and light, in the real world. We can have agency. We can be a creative force for good. Or we can reject change, reject reality, reject ourselves. We can become a weaker, less stable, even mentally unhinged version of ourselves. It's a choice. It shouldn't be a difficult one. Reality will go on being real, whether you accept it or not. Night becomes day. Winter becomes spring. Old ways give way to new ones.
<p value="<amp-fit-text layout="fixed-height" min-font-size="6" max-font-size="72" height="80">Through the long night of pandemic, we have clung to the light in each other. But when the sun finally rises again, do not be afraid to see your own shadow. It was there all along. There was always light, even in the darkness, and darkness even in the light. The interplay, the balance, the dance of light and shadow is what makes us all real and beautiful and magical.Through the long night of pandemic, we have clung to the light in each other. But when the sun finally rises again, do not be afraid to see your own shadow. It was there all along. There was always light, even in the darkness, and darkness even in the light. The interplay, the balance, the dance of light and shadow is what makes us all real and beautiful and magical.